When the real estate market is as hot and competitive as it's been for potential buyers this past year, you look for creative and strong negotiating tactics to help put yourself in front.
One of the most under-utilized methods of negotiating a purchase agreement is the use of an Escalation Clause.
But, before we jump in with an answer of how to use an Escalation Clause we first need to make sure we have all of the other fundamental elements of a strong offer in place.
The most obvious place to start is the offer amount.
In the case of multiple offers, most homes in today's market will sell at or above the purchase price. So, coming in lower, in the vast majority of cases, will automatically exclude your offer from further consideration.
The next thing to consider is what works best for the Seller in regards to a closing date.
Do they have to find a home and need 60 days or more, OR have they found their next home, moved, and are looking for a quick close date?
Another item to consider is the amount of your earnest money.
Earnest money is promissory funds held by the listing broker in their trust account until closing. These funds are credited toward your closing costs or down payment costs.
Obviously, the more you can afford in earnest money the better foot forward you have because it shows you are a serious and strong buyer with adequate funds.
Sellers ideally like to see at least 1% of the purchase price offered in earnest.
A seller will also consider the type of financing you are using in your purchase offer.
If you are a military vet who is making use of a DVA loan, most Sellers are more than happy to consider your offer and are appreciative of your service. However, if you are using FHA financing verus a conventional loan, and if all other things are made equal between two received offers, a Seller is more likely to accept the buyer's offer with the conventional loan.
WHY? Conventional financing typically conveys a stronger buyer in regards to credit scores as well as debt-to-income ratios. ALSO, when the buyer gets to the appraisal step of the loan qualification, the appraisal for FHA financing versus Conventional financing is often more demanding in regards to the condition of the home, which can mean additional negotiating or fees to the seller.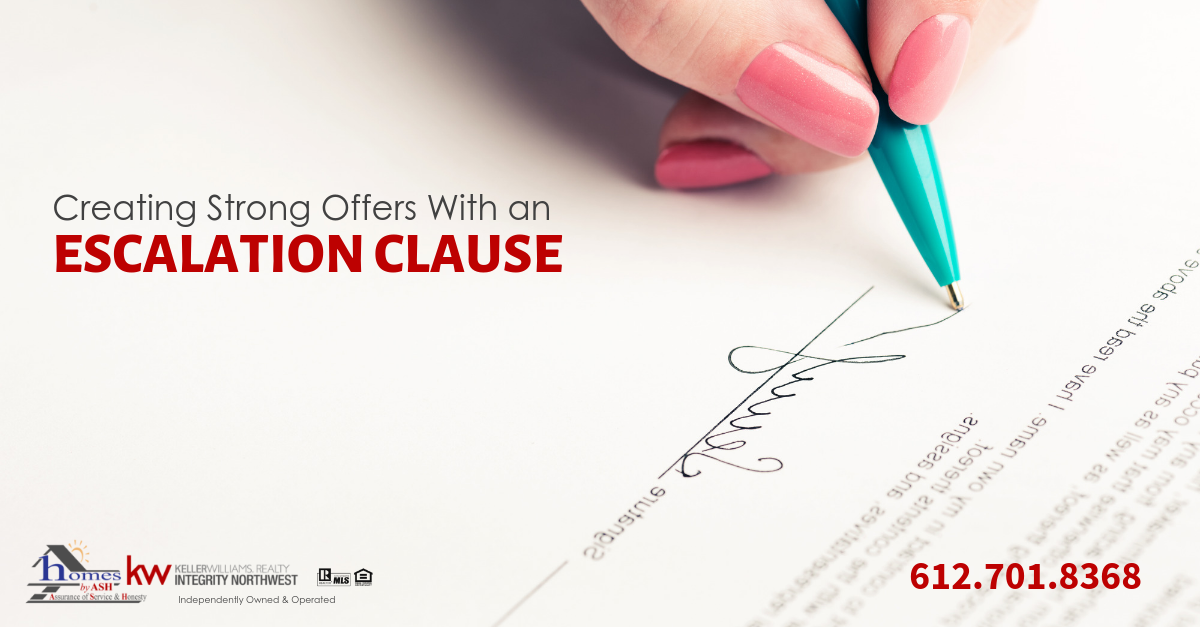 With all things being equal, you still may be able to come out on top in multiple-offer negotiations when using an Escalation Clause.
What is an Escalation Clause?
An Escalation Clause is an additional document included in your submitted offer where you agree to pay a specific amount (say $3,000) over the highest received offer.
For example, let's say the seller receives three (3) different offers, one of which is yours, and all offers are the same with regards to financing, closing dates, and concessions. The only difference is in the sales prices. Your offer is $200,000 while another is $195,000 and the third is $210,000. But, your offer also includes an escalation clause of $3,000, so in essence, you are telling the seller you are agreeing to pay $213,000 in this scenario.
Sounds simple enough, but there's more to consider when using an Escalation Clause.
Here are two of Lisa's top tips when incorporating an Escalation Clause with your purchase offer.
(1) It's always a good idea to set a limit on how high you wish to go.
In the case of the escalation example of $3000, you would want to write that agreement so the $3,000 is attributed to the dollar amount over the next highest 'net' offer with a maximum purchase price not to exceed X dollar amount; example – "not to exceed the purchase price of $215,000."
(2) It's also a good idea to state that the Seller and/or Listing Agent provide you and your Buyer's Agent a copy of the highest offer you are competing against.
If you are paying your own closing costs at an offer of $200,000 with an escalation clause of $3,000 but the next highest offer is $210,000 whereas that buyer is requesting the Seller pays $6,000 towards closing costs, then the 'net' offer is actually $204,000 in that scenario. Therefore, in accordance to your Escalation Clause, you would be offering the seller an escalated sales price of $207,000 versus $213,000.
If you're not working with a Buyer's Agent who is familiar with the ins-and-outs of an Escalation Clause this is something that could be missed and put you on the hook for an unnecessary extra $6,000 at the time of purchase.
For a full list of Home Seller Benefits and a Complimentary Market Analysis…
Homes By Ash
Lisa Ash, REALTOR®Keller Williams Realty Integrity NW
Phone: 612-701-8368
Email: LMAsh58@hotmail.com
MN License #: 20355856