Beware the iBuyer program.
It is a threat to your ability to get the best possible price when selling your home. It stands in the way of you being able to soundly negotiate the best possible deal when buying a home.
iBuyer fees can exceed 10%

– making them costlier than working with a REALTOR®.

Home inspection is not independent

– rather, it's controlled by the iBuyer.

Only one offer, with no negotiation

– so buyers don't bid up the price.
We will cover each of those issues in greater detail below.
Understanding the iBuyer means knowing what they are and what their shortcomings are.
Once you look at these options more carefully, you will have a good sense what iBuyers mean to your real estate goals and why you should work with me instead!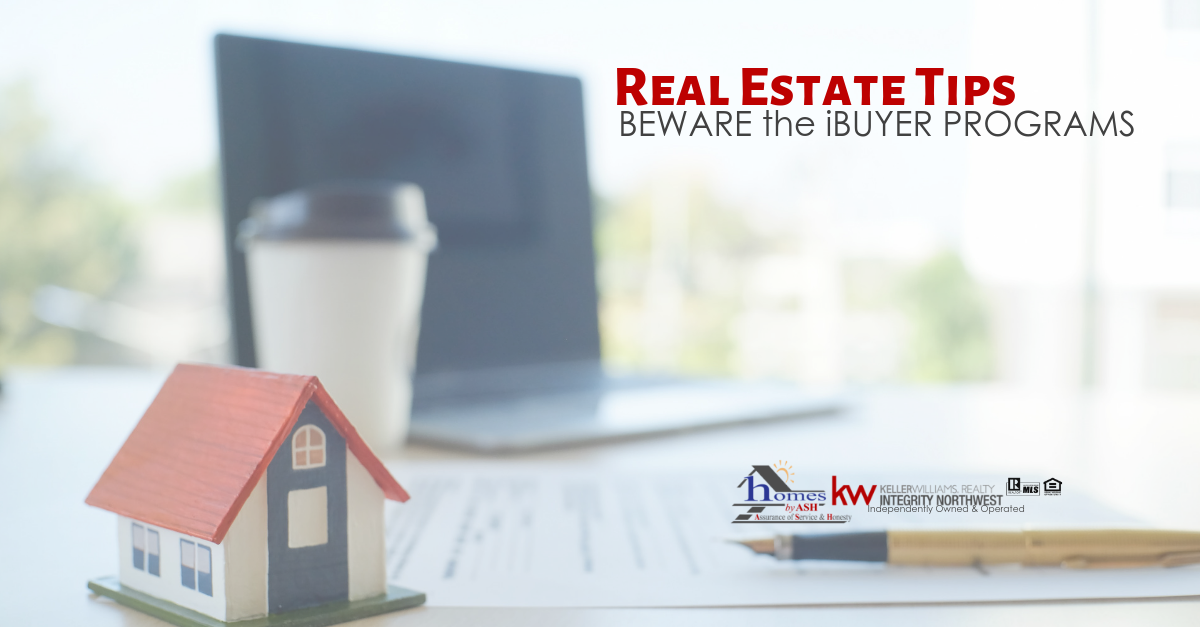 What is an iBuyer?
An iBuyer is a company that skips real estate agents, buying homes directly from homeowners and quickly reselling them for a profit. The iBuyer offers cash based on what it claims is a fair price. Once you have the cash, the company makes repairs and cleans your house for a fee. They make money off the sale because what they pay you is typically not as high as if you sell it through a REALTOR®.
The iBuyer could be called a Silicon Valley home-flipping corporation. However, as Jeff Andrews noted in Curbed, home-flipping has a negative connotation, so these organizations will not tell you they want to "flip" your home.

The largest of the iBuyers, Opendoor, is now operating in nearly two dozen markets in the US. The meteoric rise of this model is because of the industry's "glossy marketing, aggressive PR campaigns, and billions in VC cash to burn," noted Andrews.
Cons of working with an iBuyer
There are serious downsides to working with an iBuyer, as introduced above:

iBuyers are not free

– iBuyers can charge more than 10% to perform their service (see below).

Home inspection nonnegotiable

– You have no control over the home inspection. With a traditional home sale, the buyer gets an inspector; and the buyer and seller negotiate whether things should be fixed or the price should be reduced. Instead of an independent third party, the iBuyer brings in a home inspector; they then tell you to either make certain repairs or accept the reductions that they state are fair.

No negotiation or multiple offers

– This shortcoming of the iBuyer is deeply rooted in its Silicon Valley nature – and also relates to lack of negotiating power. Traditionally, a seller can drive up the sale price by getting offers from various interested parties. In the case of the iBuyer, an algorithm is used to come up with the value of your home – i.e., what the company is willing to pay you. Once the algorithm says what your house is worth, you only get to say yes or no.
To go back to the fees, that is really a critical issue with the iBuyer. According to Prevu cofounder Chase Marsh, the fees can be more than 10%, vs. the 5-6% commission through a real estate agent. Since it is often a selling point of these services that you are avoiding a traditional agent in order to save money, that seems disingenuous when you look at the actual costs.
Benefits of working with Lisa Ash



Beyond the above-stated downsides of using an iBuyer, it is important to understand the true value of working with a REALTOR® – and one with knowledge and integrity. Some of the key benefits include the following:

If you are selling, you will have someone at your side who will work to help you organize, stage, and professionally market your home to a targeted audience.

If you're buying, you will have someone who can put you in touch with just-released inventory that best meets your home-buying needs, goals, and budgets. You will have a professional to guide you through financing options, home inspections, and proper home warranty options.

In Lisa Ash, you will get a trusted advisor who understands the true market value for your home's size, condition, location, and features. A REALTOR® will provide a seller with a more accurate Market Analysis of your home's value based on current market intel, and it will not be skewed in the favor of the iBuyer agency who is the actual buyer of the home.

You will have an expert to aggressively negotiate the best contract for you in a sale. A REALTOR® listing agent will negotiate the pricing and terms of a sales agreement in the seller's best interest.

Lisa Ash goes the extra step of pulling in professional stagers, painters, and home improvement persons to provide you professional consultations and resources to help get the home show-ready so it is strongly competitive in the marketplace and will pull in the top margin of market sales for the area.

Lisa Ash also hires professional photographers and a digital marketing agency to help showcase your home online and off in its best light, and in front of the right audience.

Lisa Ash also works with top title agencies in the market to ensure everything is processed completely and timely for closing day.



And, these are just some of the benefits.

For a full list of Home Seller Benefits and a Complimentary Market Analysis…
Homes By Ash
Lisa Ash, REALTOR®Keller Williams Realty Integrity NW
Phone: 612-701-8368
Email: LMAsh58@hotmail.com
MN License #: 20355856