While you may be excited to escape the 80-90 degree weather soon and get those kiddos from under your feet all day, getting ready for back-to-school and all that comes with it has it's own set of stress. And, if you're in the middle of a move, the break in routine can put some over the top.
End of Summer Seasonal Stress is a REAL Thing!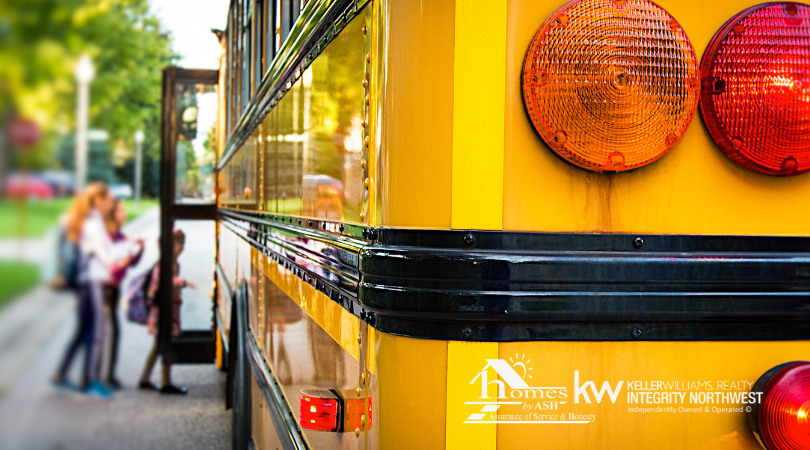 The Homes by Ash Team wants to help you and your kids get back into a routine and reduce the stress of the fall.
It all starts with good planning.
Here are a few ideas to help ease stress in this transitional season.
#1 Use a Shared Family Calendar
If you have multiple kids at home, or you are involved in multiple community organizations and volunteer programs, keeping track of everyone's busy schedules can be a nightmare. Here are two ideas to help you from accidentally over-booking or double-booking your family…
(1) Consider getting a large paper calendar for the kitchen and try using different colors for each person on the schedule. But, sometimes the paper calendar at home doesn't help when you're out and about and need to make quick decisions in the moments (scheduling follow-up doctor appointments come to mind). Sooo…
(2) If your family is digitally savvy, using a cloud-based shared calendar could be your ticket. You can share Google calendars with each other or use a smart phone apps like Outlook, Cozi or Picniic to stay on top of everyone's moving schedules.
#2 Start Routine Changes Now!
With daylight hours that reached out to 9:00 PM, it's easy for kids to get out of a normal bedtime routine. If your kids were staying up extra late this summer or sleeping in late, now's the time to start working with them on a new bed time routine.
Here Are Our Top Three Tips:
(1) Start gradually having your kids go to bed earlier and wake up earlier. Even an extra 20 minutes alteration each day can help them get back on track.

(2) Start pulling those electronics at least an hour before they put their heads down and make sure all distractions are shut down; lights, sounds, etc.

(3) Try getting them used to a manual alarm clock on their own… one they have to manually set each night and manually turn off in the morning. This is especially great for those middle schoolers and those high schoolers with college coming up in the next year or two.
#3 Plan-Ahead Meals
You can avoid most last-minute mealtime stress when you feel you have to eat-on-the-fly if you set aside time to plan out your dinners and lunches ahead each week; for the whole week. Pick a time, maybe on a Saturday morning before the day gets to crazy to put your meal plan on your family calendar, then take care of quick trips to the grocer that weekend.
Here are a few more tips!
(1) Consider making "extra" portions of your base or protein so you can use it to make multiple meals at the same time or have leftovers to fill out those upcoming nights.

(2) Consider using a services like Shipt now used by Target or HyVee and CVS to create quick-order lists and set scheduled delivery time frames where you know you'll be home so you don't have to make those extra stops yourself.

(3) If you're a family of 3 or 4, you might want to consider buying a meal kit service like Hello Fresh or Blue Apron which includes the step-by-step recipes and perfectly portioned ingredients to your door.
FOR MORE GREAT TIPS, MAKE SURE YOU FOLLOW OUR BLOG HERE ON WWW.HOMESBYASH.COM!
———————————————————-
For a full list of our Real Estate Services & Solutions, or to receive a Complimentary Market Analysis…
Homes By Ash
Lisa Ash, REALTOR®Keller Williams Realty Integrity NW
Phone: 612-701-8368
Email: LMAsh58@hotmail.com
MN License #: 20355856