Learn Why Renee Quinn, owner of Renee's Worthy Women and an Independent Mary Kay BeautyConsultant, Is Worthy of Your Attention
Losing confidence has become common after the onset of the pandemic. You may have faced challenges affecting your physical, mental, and emotional health.
Self-love and appreciation have always been a common goal for women (and men) as the world continues to change; grow, evolve, and even struggle at times. And, as the pandemic seems to be waning now, it's time to get back out in the world – take a breath – and start working on ourselves once more.
You might lack motivation because you think there's no one on your side or the goal is too overwhelming. However, the independent beauty consultant and owner of Renee's Worthy Women, Renee Quinn, can help you move toward that goal. She will help you take care of your skin and enhance your outward beauty while you build confidence and embrace your inner beauty.
Keep reading to learn more about how you regain your confidence this year and how working with someone like Renee Quinn can help you achieve those goals.
Regaining your confidence and building your self-esteem
One of the first steps to regaining confidence is by taking care of your health and appearance.
Skin problems are commonly caused by – or exacerbated by increased and prolonged periods of stress and anxiety – something that was commonplace during the height of the pandemic.
The first step towards healthier skin is knowing what it needs. You don't go to a store and automatically buy their bestselling products – or at least you shouldn't. Nor should you necessarily "shop the deals" and purchase a lesser quality product because it feels like a cost savings. Those cost savings today could cost you dearly tomorrow if it's the wrong product for your skin type OR they're made of lesser quality ingredients that will do more harm than good.
If you don't know where to start, Renee Quinn from Renee's Worthy Women can be your guide. With years of experience and knowledge of skincare and beauty products, Renee can help you determine the best course of action for your skincare needs. And, unlike store-bought products (no matter their price points), the products Renee works with through Mary Kay are guaranteed with her – or she'll exchange them for another.
Personalization is the key
Skincare and makeup are personal products. Each person has their own unique needs, goals, and tastes – all unique to them. So, what works for you won't necessarily work for another.
Renee will help you find the right products for your skin type and lifestyle. With her help, you can save time, money, and energy by experimenting with different kinds of products.
Expertise and personalized consultation to meet your changing needs
You may have used many different products in the past – some that worked well for you and you loved – but your skin might react differently to them now through age, health changes, hormonal changes, and more. As a result, it's hard to know the right products to use to meet your skin care needs today — providing you with the best results and value.
You can go through dozens of sites and hundreds (or thousands) of product reviews to try and figure it out on your own through trial and error. Or you can save your time, energy, and money and work with an expert consultant who knows the products and industry trends.
Renee understands each of her clients' needs and caters to them personally. You can approach her for consultations about the right skincare and makeup products to buy, and unlike a salon or beauty store associate, Renee is only a call or click away with her help & expertise.
She not only helps her clients find the most beneficial products, but she can also show you how and when to use these products to maximize their results and save you time and money.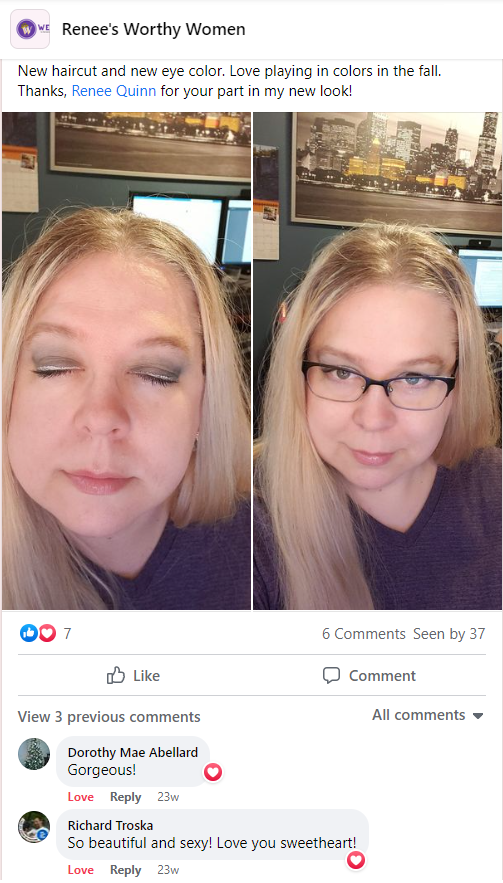 You need someone to uplift and motivate you
Trying to start your transformation can be difficult at first. You may be lacking in confidence, but a lack of motivation or drive will add another layer of obstacles.
Having a personal beauty consultant on your side can ensure you get all the right things you need while motivating and encouraging you to make those changes or up your game.
Renee is all about inspiring people and empowering them to love themselves, embrace their self-worth, and feel more confident in themselves.
This mission is at the heart of everything Renee does in business and life and exemplifies who she is as a person.
See and feel noticeable results
It's normal to feel hesitant when asking for help – especially when it comes to something as personal as our appearance. It's hard to know who you can trust, the questions to ask, and no idea who will give the advice you need or if they're just telling you what you want to hear to sell a product (or service).
As an Independent Beauty Consultant — Renee Quinn guarantees you 100% satisfaction on any Mary Kay product she provides. She believes one of the things that sets her business apart from others is her commitment to serving her customers.
With the help and guidance of Renee's Worthy Women, reaching your beauty goals is easier, and finding your confidence becomes easier.
What's New in the world of skincare today?
One of Renee's favorite new skincare products is the Mary Kay Clinical Solutions line which boosts your existing skincare. These boosters help address specific skin concerns for women and men that other ordinary skincare products don't address in the marketplace, or address at the level of performance these products provide.
She's also in love with some of the new color lines out this season that are sure to help her clients make a big splash this summer.
What have we learned?
You don't want uncertainty to overcome your options or indecision to hold you back from being your best you this year. It is important to use the right products to meet your individualized skincare goals and are recommended by trusted people who know how to help you.
Renee Quinn of Renee's Worthy Women specializes in the following:
Makeovers
Foundation Shade Matching
Skin Care Solutions
Gift Giving
Age-fighting Skin Care
Makeup Application
To know more about Renee, visit her website at http://reneesworthywomen.com. Or, find her on Facebook at www.facebook.com/reneequinnmarykay.
Start your journey back to building confidence and self-love again this year when you take advantage of a free initial skincare consultation with Renee.
Call (763) 442-6143 to get started today.
And, for more tips, insight, special giveaways, events, promotions, and fun games - join Renee's Worthy Women on her private Facebook group when you visit www.facebook.com/groups/reneesworthywomenvip.