It's a tradition - a Pumpkin Giveaway in the fall!
Team Homes By Ash gets together with their valued partners every autumn to create a special seasonal gathering for their valued clients and partners.
They work with local business owners to create a memorable event where you can gather with family, enjoy a couple of hours of fresh air, taking a photo, and picking out the season's favorite fruit -- pumpkins.
This October, the team put together a special client appreciation event at a new, more central location with an amazing feature -- the NW Metro's largest custom corn maze at Twin Cities Harvest Festival and Maze in Brooklyn Park!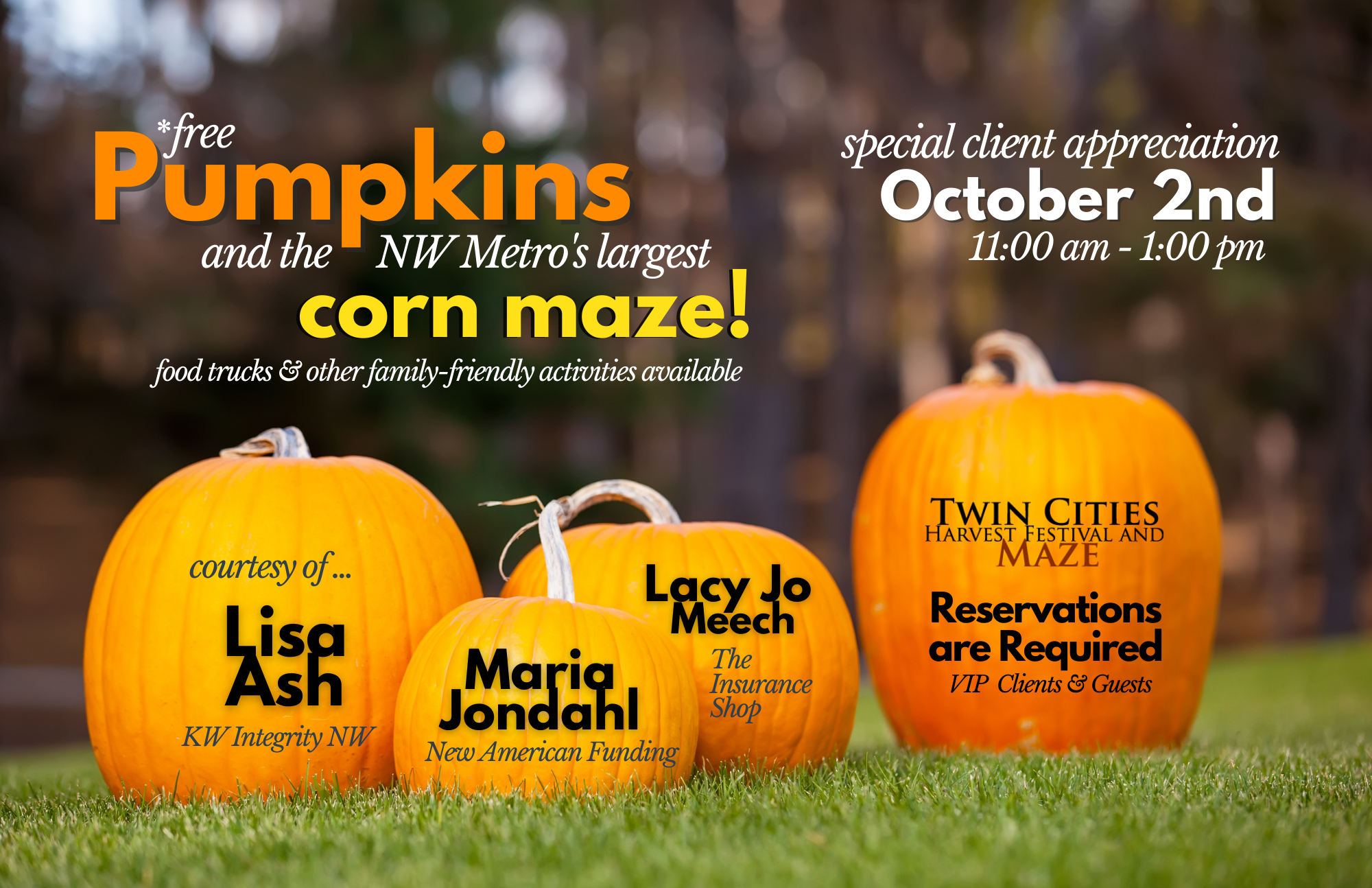 Watch your mailboxes for the official printed postcard announcement and registration instructions!
Clients and partners should have already received their postcard invitation in the mail, but if you think yours got lost - no worries - we have you covered!*
Each registered person will enjoy one FREE pumpkin and a wristband to get you into the amazing corn maze!
This special event promotion is compliments of Team Homes By Ash* with Keller Williams Integrity NW along with Maria Jondahl | Team Jondahl at New American Funding* and Lacy Joe Meech with The Insurance Shop - MN.
How do you participate?

Space will be limited for the event, so we want to make sure you get registered as soon as possible - but no later than September 25th. This will give us time to get those pumpkins ordered.
Check your postcard for the official registration page. We'll use that registration to get your admission taken care of the day of the event, plus a pumpkin for each person in your party - up to six people.
Still have quetions? Can't find your postcard?
Check out our VIP Group page on Facebook for the private registration link, or give Lisa Ash a call at 612.701.8368 to be added to the list.
Not valid with any other coupons or promotions.
See store for additional details, restrictions, or exclusions.
*This promotion is not offered or available through Keller Williams Realty Integrity NW or NewAmerican Funding directly, nor any of their affiliates. This is a private promotion available only through Team Homes By Ash, Maria Jondahl of Team Jondahl, and Lacy Jo Meech with The Insurance Shop.